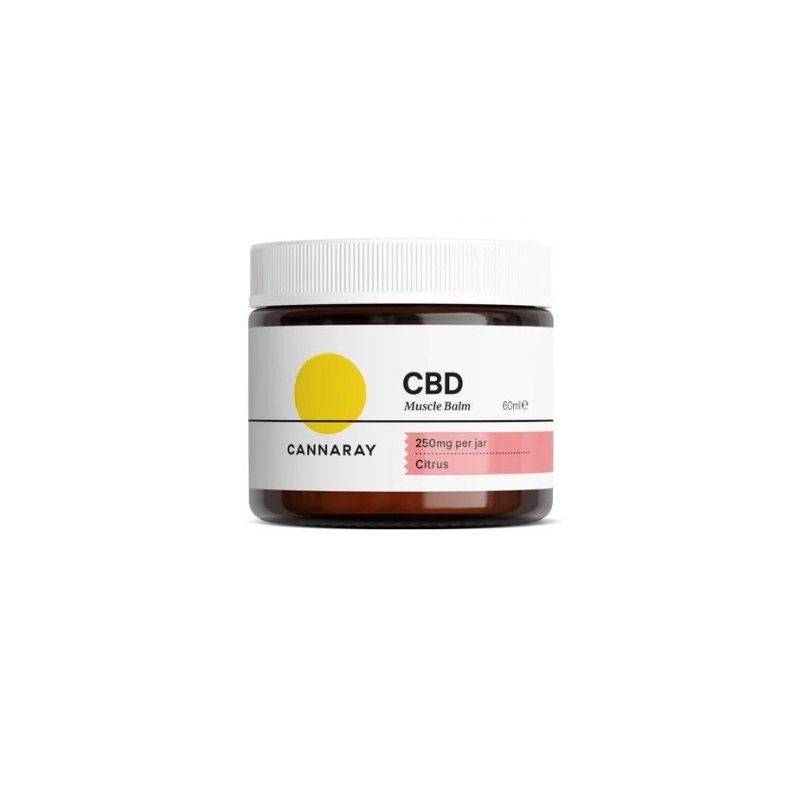 Cannaray CBD Muscle Balm 250mg - 60ml
Soothe sore, achy muscles with a massage alongside the Cannaray CBD Muscle Balm. Try it at home with the Cannaray CBD Muscle Balm, featuring 250mg of Cannaray's premium CBD, plus a soothing blend of Aloe, Arnica, Shea Butter, Eucalyptus, Limonene and Linalool. 

Olea Europaea Oil, Beeswax, Butyrospermum Parkii (Shea) Butter, Aloe Barbadensis Leaf Juice, Parfum, Helianthus Annus (Sunflower) Seed Oil, Simmondsia Chinensis (Jojoba) Seed Oil, Eucalyptus Globulus Leaf Oil, Rosmarinus Officinalis Extract, Tocopherol, Cannabidiol (CBD), Arnica Montana Flower Extract, Carrageenan, Citric Acid, Potassium Sorbate, D-Limonene, Linalool 
Cannaray CBD reviews have been exceptional, from their high quality ingredients with their triple lab testing to ensure the very best experience. If you decide to choose Cannaray CBD as your brand of choice, you know what to expect! Cannaray CBD also have their Cannaray CBD gummies, Cannaray CBD capsules and other Cannaray CBD oils! And Cannaray CBD is of course backed by the wonderful Claudia Winkleman!
Cannaray CBD are one of the fastest growing CBD brands in the UK, and for good reason. The Cannaray CBD collection includes CBD Oil Drops Bright Days and Night Time, Capsules, Gummies and a Muscle Balm. Give Cannaray a try today, brought to you by Associated CBD, the Uk's favourite CBD Marketplace!
See Our Most Commonly Purchased Items Below!