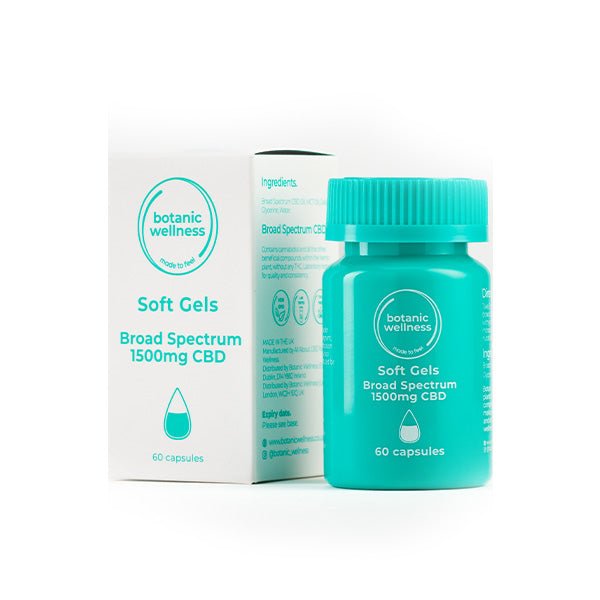 Novel Food application number: RP427
Botanic Wellness controls the entire supply chain, from the seeds they plant to the products you see here. This allows them to produce the highest quality broad spectrum CBD while keeping their prices as low as possible for you!
Botanic Wellness Soft gels are made from nothing but the best quality, high strength broad spectrum CBD. Easy to swallow, and formulated to be quickly absorbed by the body these gels are a convenient companion to your wellness routine.
Grown slowly across vast amounts of land, nurtured by nothing but nature, these specific strains of hemp were grown with wellness in mind. The high temperatures found on their farms increase production of Cannabinoids in the hemp plant. These Cannabidiols interact with your endocannabinoid system, which could help your body maintain a state of balance and stability. And that homeostasis is the key to achieving a good night sleep, managing stress or maintaining your general wellbeing. 
Description:
These 60 capsules contain 1500mg of premium broad spectrum CBD, blended with coconut-extracted MCT oil and a hint of peppermint oil.
Their specially formulated CBD Soft Gels are an easy and convenient way to consume CBD at home or on the go.

Just pop a gel capsule in your mouth and swallow - exactly like you'd normally take a pill. Botanic Wellness take theirs with water just because they have yet to master the dry swallow, but these caps are so smooth that you can if that's how you roll.
Ingredients:
Broad Spectrum CBD Oil
MCT Oil
Gelatine
Glycerine
Water
Dosage:
Take 2 capsules (50mg) daily.
Each soft gel contains 25mg of broad spectrum CBD.
The maximum dose of CBD is 70mg daily and always consult a healthcare professional before increasing your dose. 
Additional information:
Botanic Wellness know you know this but please consult a healthcare professional prior to use, especially if you are pregnant, nursing, taking other forms of medication or if you have a medical condition.
Also Food Supplements should not be substituted for a varied diet or healthy lifestyle.
These are only suitable for adults aged 18+ and need to be kept out of the reach of children.
Store them in a cool, dry place.

THC content<0.2%
See Our Most Commonly Purchased Items Below!