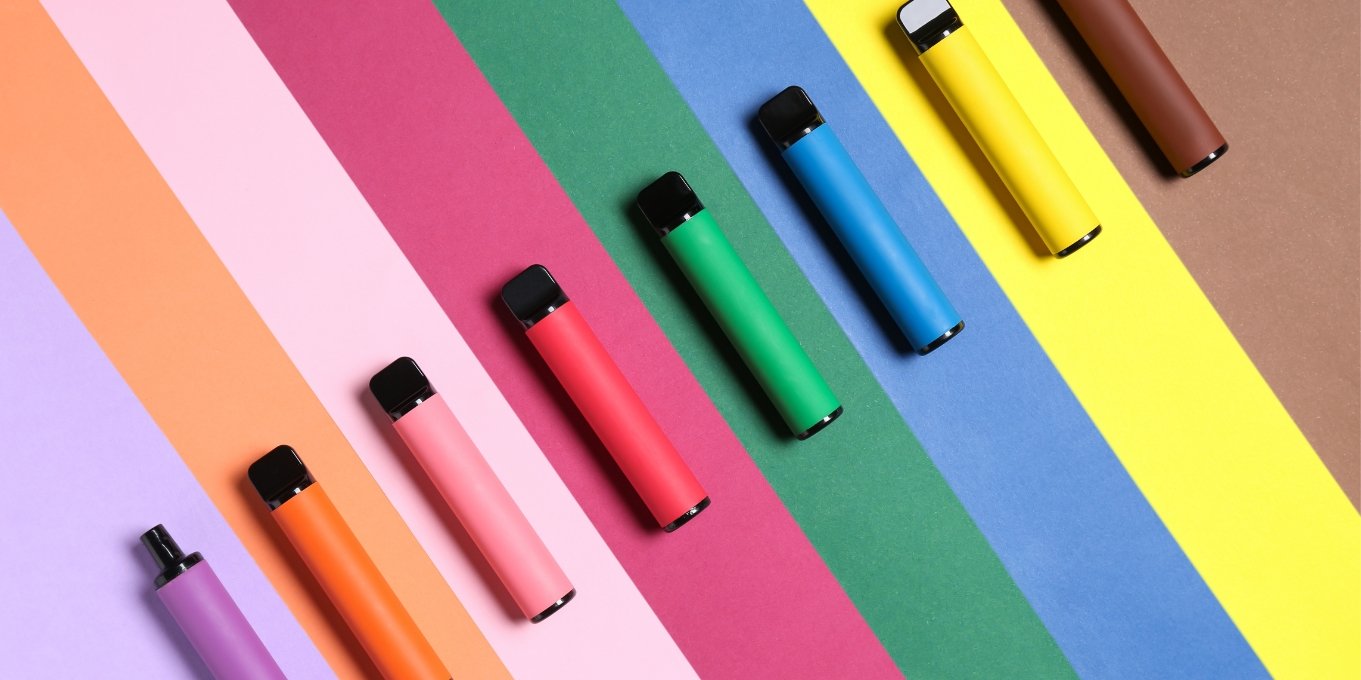 The Top 5 CBD Disposable Vapes
So why are disposable CBD vapes becoming so popular?
Disposable vapes have massively increased in popularity over the last few months and no doubt you have started to see them popping up everywhere. One reason they are so popular is that they allow the CBD content to be absorbed into your bloodstream almost immediately, and this high level of bio-availability allows for the benefits to be felt faster. This can be particularly useful for those that suffer from chronic pain, as when you first wake up this can serve as an immediate release whilst you wait for another form of CBD to kick in.
It can also be particularly useful for those moments in life when the unexpected happens. Bad news can hit you hard when you least expect it, so carrying a small light and handy CBD vape in your pocket can help you keep your cool when you need it the most.

However as with any popular product, it's not unexpected that the market can become saturated with a whole bunch of products and it's difficult to know where to start when you become interested in making a purchase. There's a range of different devices, different brands, different flavours, different strengths... The list goes on!

 
Our top 5 CBD disposable vapes
So we thought we would put together a handy little shortlist of our favourite, tried and tested, 5 best disposable CBD vapes. In no particular order, but if you are struggling to choose from the many dozens over here then look no further!
Being one of the UK's biggest and most popular brands, Orange County's disposable vape is a great place to start. Combining both CBD & CBG is becoming a popular recipe for all kinds CBD products as it delivers a greater benefit than just CBD alone. CBG is simply another cannabinoid that comes from the plant (don't worry, just like CBD it doesn't get you 'high'), but adding this to the combination, increases it's natural benefits and is known to give you a fuller effect. 

As with all disposable vapes, there is no need to charge it and with 500mg of CBD/CBG (which is a really great strength for a disposable!!), it's 600 puffs will last you through many a calming situation. It also comes in 5 tasty flavours, sour apple, cool menthol, mango ice, grape burst and Kiwi & Strawberry, so you're bound to find a flavour that you can get on board with. Personally we love them all!


Cali Greens is another really great, and becoming increasingly popular brand. Unlike the Orange County disposable, this is a straight CBD option and contains 150mg of CBD. This is a great option for those of you that simply like vaping and have a mutual love of CBD. We find that as it has a lower strength you can happily puff on this throughout the day and use it as a handy companion for staying relaxed and mastering whatever life throws at you. Stay confident, cool, and Cali!

The Cali Greens disposable comes in 6 different flavours, Blackcurrent Ice, Amnesia Mango, Blue Dream, Grandaddy Purple, Lemon Haze, and Berry Kush, so once again you are spoilt for choice with this vape!
So this one is an interesting choice, we chose to include it into the list because whilst it's refillable (most people would not classify that as disposable), it can only be refilled 5 times so we are going to class it as disposable.

This is Dr Watson's most powerful CBD vape pen yet! Dr Watson's Big Hit 500mg Full Spectrum CBD & CBG Vape Pen offers 3 flavours with natural hemp terpenes giving vapers the potent, pure thrills of CBD and CBG as you experience it. Derived from organically grown GMP certified hemp farms in the US, each flavour is pre-filled with 1ml of hemp e-liquid with the vape pen device which can be refilled and reused up to five times. You can also recharge the Big Hit vape pen when needed as well. All Dr Watson products are subject to third party lab tests to ensure that they're ethically sourced, are non GMO and safe to consume to all costumers.
Why So CBD? is one of the newer brands to hit the shelves but they have come to the market with a bang, offering a great selection of 12 different choices which include some nostalgia favourites like Vimto, Blue Slushy, and Boy Scout Cookies, along with some slightly wackier flavours like Crack Candy, Space Cake, and Hash Berg. We don't know what the last 3 taste like so I'm just going to gloss over that bit... But either way we are sure your taste buds will be busy with all this choice!

The Why So CBD? disposable vape is also the strongest of the bunch, offering a whopping 600mg of CBD in each vape. We haven't seen many that offer this strength on the market, which also has such a wide range of flavours. It is also  made from organically grown hemp, cruelty free, and lab tested for safety, purity, & potency... Alas it made the list!
The Hempthy 400mg CBD disposable vape is our final choice for this blog. Being 400mg it's a mid-range strength and therefore can be used to handle and battle most situations when you find yourself in need of CBD. 400mg of CBD coupled with 10 flavours to choose from, it ticks a lot of boxes. 
Each Hempthy CBD Disposable Vape Pen comes with a specialised heating system and an integrated rechargeable 280mAh battery that ensures simple, convenient usage and will last up to approximately 600 puffs. Being inhale activated, the Hempthy CBD Pen will make for the perfect device for beginner vapers and those who want to option to recharge when the battery runs low. However, it's not refillable so this one also made it to our disposable list.
So, in summary...
We haven't ranked these in any particular order, it's simply just our favourite 5 of what is becoming a very crowded market. We've experienced and seen many examples of CBD vapes becoming clogged, not working, or in the very worst case scenario, not even including the CBD that the label suggests. 

So if you're shopping for a CBD disposable and finding it hard to choose, then hopefully this blog will help narrow down some options!

As always, feel free to get in touch with any questions. We're always here to help!

Thanks for reading!