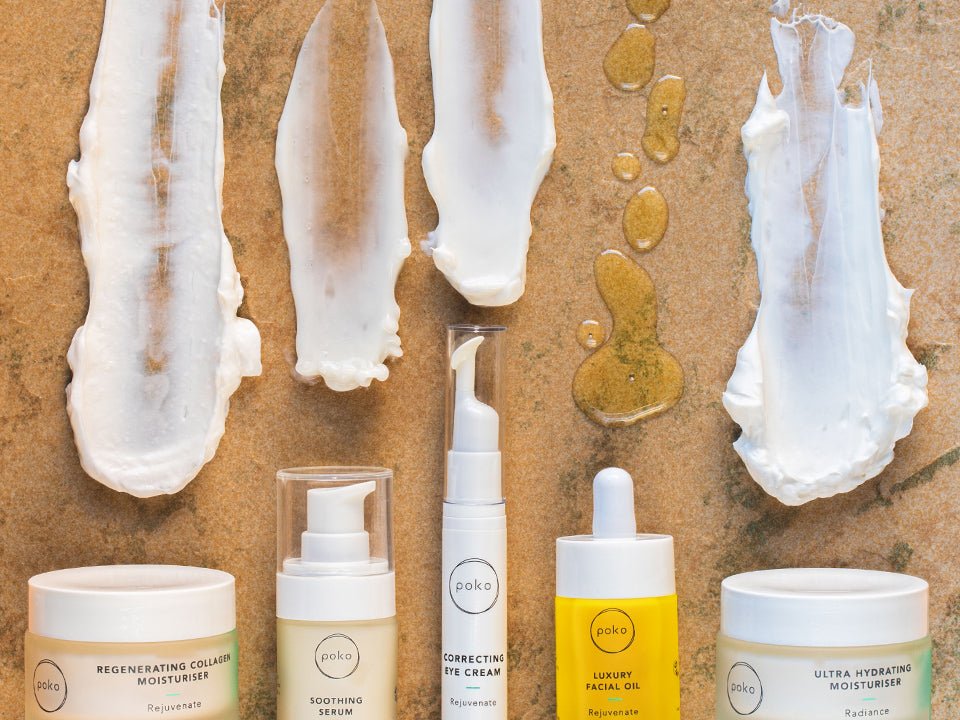 CBD Skincare Guide
Our CBD Skin Care Guide
In this guide we look at all things CBD skin care. CBD creams, CBD serums, CBD facial oils and CBD topicals are used for a number of ailments and many of the benefits associated with CBD can be garnered through CBD skin care products, but also utilise some of factors related to the wonderful hemp plant! We then look at our top five products chosen in tandem with our customers!
What does CBD in skin care do?
CBD skin care products are a great option for localised results. This is because they are applied directly to desired areas of the skin allowing them to get to work straight away.  The hemp plant, much like the Tea Tree plant, has naturally occurring antioxidants and anti-inflammatory properties, and we all know how highly held the Tea Tree oil is! CBD topicals can be applied directly to problem areas and thus we find it used for its anti-inflammatory benefits alongside benefits such as reducing pain and arthritic pain. But CBD is now being used more so than just as an anti-inflammatory or for pain relief, but is finding its way into high quality CBD creams and CBD skin care products too! 
CBD Cream
What are CBD creams?
CBD creams are topical products that contain a concentrated form of CBD, extracted using CO2 extraction - a clean and pure method that removes any solvents that may be harmful to the skin. To make CBD creams, CBD oil is blended with essential oils like olive oil, coconut oil, and butters such as cocoa butter or shea butter to give it a creamy consistency.
There is a common misconception that using CBD creams will cause a high. However, this is not the case as CBD creams cannot produce a high. As they are applied topically to the skin and do not enter the bloodstream, they are referred to as "topical" products. CBD oil used in creams is derived from the hemp plant, which has a high CBD content and low THC content, making it legal.
What are the benefits of CBD creams?
Using CBD creams on the skin offers numerous medicinal benefits due to its anti-inflammatory properties, whether applied topically or consumed orally. For pain relief, CBD creams are a superior option compared to CBD oil as they can be directly applied to the painful area for more effective results. CBD creams have a localised effect on pain and are all-natural and organic without any adverse side effects found in typical pain medication. People commonly use CBD creams for muscle or joint pain, including relieving arthritis.
When CBD creams are applied on the skin, the CBD interacts with the natural receptor of the human body that is a CB2 receptor and provides a signal to the endocannabinoid system to reduce pain and inflammation. Besides dealing with chronic pain, acute pain, sore muscles, and sore joints CBD creams are also used for dealing with a number of skin diseases including eczema, psoriasis, rashes, skin infections, and sunburns. There are other benefits as it also helps in inhibiting the buildup of dead skin cells and soothing pain caused by various skin infections.
CBD Face Serums
What are CBD face Serums?
There are many serums with varying ingredients on the market that each have targeted functions. These can be roughly broken down into the following categories: 
Anti-Ageing Face Serum: Slows down ageing by providing vital anti-aging ingredients to the skin, including retinol and hyaluronic acid. Suitable for all skin types.
Antioxidant Serum: Protects skin from free radicals while repairing and preventing ageing signs, with key ingredients such as vitamins A, C, and E, niacinamide, melatonin, and L-ascorbic acid. Works for all skin types.
Colour Correction Serum: Targets conditions such as hyperpigmentation and large pores with ingredients like azelaic acid, glycolic acid, kojic acid, L-ascorbic acid, and vitamin C. Appropriate for all skin types.
Hydrating Serum: Supplements moisturiser by providing extra hydration, benefiting not only dry skin but also oily and acne-prone skin with ingredients like hyaluronic acid and peptides. Suitable for all skin types.
What are the key benefits of CBD face serums?
Rapid absorption

Improve the signs of ageing

Protect skin from free radicals

Provide faster, more visible results

Lightweight

Soothe sensitive skin

Boost collagen

Intensely hydrate

Improve the appearance of scars and blemishes

Reduce oil and prevent breakouts
Rapid Absorption
Serums are lighter than moisturisers and are quickly absorbed by the skin, making them the initial step after cleansing and prior to moisturising. Their thin texture and small molecules enable them to penetrate the skin more deeply than other skincare products and deliver active ingredients to the deepest layer, without blocking the pores.
Improve the Signs of Ageing
Many face serums aim to combat the signs of ageing such as fine lines and wrinkles. These serums contain high levels of antioxidants and active ingredients like retinol and vitamin C, making them effective at reducing ageing signs and improving skin's overall health. These ingredients can also give your skin a radiant glow by repairing and rejuvenating damaged cells. In short, anti-aging serums can lighten age spots, minimise fine lines and wrinkles, repair skin cells, enhance complexion, tighten skin, halt premature ageing and even preserve collagen.
Protect Skin From Free Radicals
Serums can help prevent oxidative damage caused by free radicals such as ultraviolet (UV) rays that can cause premature signs of ageing, especially if they contain active ingredients such as vitamin C and vitamin D.
Soothe Skin
Face serums help soothe the skin and reduce inflammation thanks to anti-inflammatory ingredients such as aloe vera and shea butter, among others. These ingredients are gentle yet potent enough to address skin irritations like rosacea and eczema without causing rashes or burning. Skin is left hydrated and soft without irritation.
Increase Collagen
Serums contain active ingredients that increase collagen production, such as retinol. As you age, your body produces less collagen, a protein that keeps skin taut and youthful. The decline in collagen production leads to sagging and ageing skin, making it crucial to promote collagen synthesis. Face serums can help with this. The best collagen serums will typically contain not only retinol, but also vitamin C, amino acids, and niacinamide. These ingredients not only boost collagen production, but also shield skin from free radical damage. By enhancing collagen, serums maintain skin firmness and youthful appearance.
Blemish and Scar Reduction
Serums with brightening ingredients such as vitamins and niacinamide will help diminish blemishes and acne scars, resulting in brighter and more radiant skin. Face serums also help repair damaged skin cells, which accelerates the healing process and reduces blemishes more efficiently than other skincare products. Additionally, they aid in the development of new cells, quickly reducing the appearance of blemishes.
Breakout Prevention
Face serums are not just for dry or blemished skin, but also for oily skin. Serums infused with ingredients like tea tree oil can combat excess oil, address breakouts, and reduce their frequency. These serums easily penetrate the skin without leaving any residue that may cause breakouts.
CBD Facial Oils
What are CBD facial oils?
CBD facial oils are skincare products that contain cannabidiol (CBD), a natural compound derived from the hemp plant. The CBD facial oils use a carrier oil enriched with CBD and typically other high quality skin care ingredients such as hyaluronic acid or others. The oils are used for their potential benefits for the skin, such as reducing redness, hydration, and the appearance of fine lines and wrinkles. CBD is thought to have anti-inflammatory and antioxidant properties, which can help improve the appearance and overall health of the skin, but CBD facial oils also have other benefits.
What are the benefits of CBD facial oils?
CBD facial oils also maintain many of the benefits stated above from CBD serums but they will typically more watery in nature due to their base and provide some slightly different benefits to 
Intense Hydration
Hydration is a key factor in skincare. Face serums provide intense hydration and combat dryness, giving life to dull, dry skin, especially if they contain hyaluronic acid. This powerful ingredient acts as a humectant to lock in moisture and maintain hydration in the skin's outer layers, resulting in radiant and youthful-looking skin.
Anti-ageing facial oils
These ingredients can also give your skin a radiant glow by repairing and rejuvenating damaged cells. In short, anti-aging facial oils can lighten age spots, minimise fine lines and wrinkles, repair skin cells, enhance complexion, tighten skin, halt premature ageing and even preserve collagen.
Anti-oxidising
Many CBD facial oils protect skin from free radicals while repairing and preventing ageing signs, with key ingredients such as vitamins A, C, and E, niacinamide, melatonin, and L-ascorbic acid. Works for all skin types.
What are our CBD skin care best buys?
CBD Leafline 100mg CBD 1% Hyaluronic Serum 30ml
If you have read this guide and like the sound of many of the potential benefits of CBD face serums, then you can;t go wrong with this lovely Serum from CBD leafline. Scientifically formulated easily absorbed serum with 1% Hyaluronic Acid, Vitamin B5 and natural plant and fruit extracts containing powerful antioxidants. All ingredients combined provide an anti-ageing serum that protects, hydrates, regenerates, brightens and softens skin. A great combo and a brilliant choice for a top of the range CBD face serum. CBD leafline also has a wider range of products which come highly recommended! You can view those here by looking at the CBD leafline collection! 
We would be crazy without giving a special mention to the brilliant Poko CBD. Poko are one of the CBD brands to put CBD skin care on the map and they have a really high quality range of CBD face serums, CBD creams, and CBD facial oils. We are specifically calling out the Poko Hempsorasis Balm as a best buy, because it has had incredible results for some of customers with psoriasis issues and also eczema. The CBD Balm worked wonders in our experience so would highly recommend it. You can shop their full collection here
Mission C Anti-Oxidant + 1000mg CBD Moisturiser - 50ml
If you are looking for a top of the range CBD moisturiser then the Mission C Antioxidant 1000mg CBD cream is one of the best. Designed to rejuvenate, moisturise and soften your skin, the Mission C Anti-Oxidant 1000mg CBD Moisturiser provides premium skincare in a fragrance free format. Infused with 1000mg CBD with other natural key ingredients such as Aloe Vera, Shea Butter and Lavender that will calm and soothe skin once applied. Another top brand with a great choice of other CBD facial creams and CBD facial serums that will be sure to suit your needs. Check them all out here
Bnatural 500mg CBD Anti-Ageing CBD Face Cream - 50ml
For those looking for an elixir of youth, why not give this Anti-ageing CBD face cream a try from Bnautral. A very well priced face cream with a good amount of CBD infused at 500mg. It's a fantastic value CBD face cream and is further Infused with both Vitamin E and Vitamin B3, Bnatural's 500mg CBD Anti-Ageing CBD Face Cream will help to reduce the appearance of fine lines and wrinkles, even out skin tone, boost collagen production and help to calm inflammation. More skincare benefits include helping to protect the skin from damage caused by environmental stressors such as pollution and UV radiation, reduce redness, swelling as well as lighten dark spots. Hard to complain about these benefits at this price point!
Poko 500mg CBD Regenerating Collagen Moisturiser - 30ml
For our final pick we are going back to one our favourite CBD skin care brands, Poko CBD again! The Poko CBD collagen moisturiser is designed to help fight the signs of ageing while keeping the skin hydrated, this rich collagen moisturiser formulated with CBD and aloe vera juice to keep the skin supple and nourished. Over time, through repeated application it will give the skin a youthful glow thanks to its potent antioxidants like Vitamins C and E that helps to reduce UV damage like age spots, lines and uneven skin tone. Perfect!
Well there you have it - our complete guide to CBD skin care! Please comment below or reach out to us directly for questions! Thanks for reading!