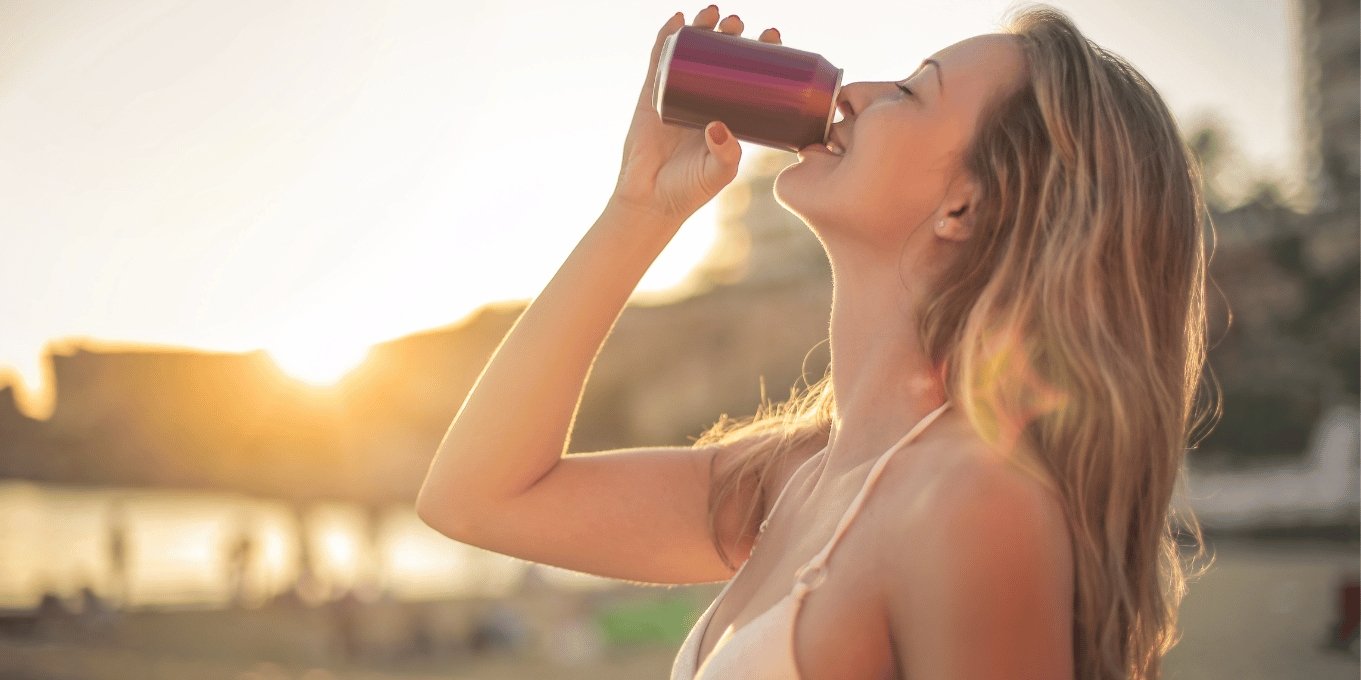 Best CBD Drinks UK
With the rise of CBD products, it's no surprise that the beverage industry has caught on and started incorporating CBD into drinks. From seltzers to teas, there are many options for those looking to experience the benefits of CBD in a refreshing and tasty way. Here, we'll take a look at the different types of CBD drinks that are available, and what makes each of them unique.
What are CBD drinks?
CBD drinks are CBD beverages that take popular drinks and infuse them with CBD to gain the added benefits and boosting properties of CBD. CBD drinks have grown in popularity and include a wide range of options now such as CBD seltzers, CBD beers, CBD coffee, CBD teas, CBD gins and many more! 
What are the effects of CBD drinks?
CBD when consumed in the form of a drink is absorbed into the bloodstream through the digestive system. Some of the common effects that people have reported from drinking CBD include:
Reduced anxiety and stress
Some people have reported that drinking CBD has helped to reduce feelings of anxiety and stress.
Improved sleep
CBD has been shown to have a relaxing effect on the body, which may help to improve sleep for those with insomnia or other sleep disorders.
Pain relief
CBD has been shown to have pain-relieving properties, and some people have reported that drinking CBD has helped to reduce chronic pain.
Anti-inflammatory
CBD has been shown to have anti-inflammatory effects, which may help to reduce swelling and pain associated with certain conditions.
Improved mood
CBD has been shown to have a positive effect on mood, and some people have reported that drinking CBD has helped to improve their overall sense of well-being.
What are the different types of CBD drinks?
CBD soft drinks
CBD infused soft drinks have increased in number and flavours as time has gone on. One of the best things about CBD drinks is their flexibility to be drunk at any occasion. They can form a healthy hydrating drink throughout the day, a mocktail in the evening to avoid alcohol, or something to refresh you in the morning. The added infusion of CBD giving a welcome mood boost and calming effect.
CBD Seltzers
CBD seltzers are a popular choice for those who are looking for a low-calorie, carbonated option. They come in a variety of flavours and offer a subtle, yet noticeable, dose of CBD. CBD seltzers are a great option for those who are looking to try CBD for the first time, as the carbonation helps to mask any bitter aftertaste that some people experience with CBD oil. CBD seltzers much like CBD soft drinks offer a similar breath of use, but with the added carbonated fizz!
CBD Beers
For those who love beer, there's good news – you can now find CBD-infused beer on the market. These beers offer a unique way to enjoy the benefits of CBD, as well as the taste and texture of a traditional beer. However, it's important to note that CBD beers are still in their infancy and are not widely available. But as the market grows, we can expect to see more options in the future. We are very pleased to welcome the brand Cannabrew onto our website, which is one of the first brands to infuse CBD and beer! Their non-alcoholic Hops & Sunshine IPA is available and finds its way into our top CBD drinks to buy!
CBD Teas & CBD Coffees
For tea lovers, there's now a new way to enjoy your favourite beverage. CBD teas offer a relaxing and calming experience, as well as the benefits of CBD. Whether you prefer green tea, black tea, or herbal tea, there is likely a CBD tea available that will suit your taste. CBD Coffees are also a great way to start the day. For many of us the caffeine boost from coffee combined with the reduction in anxiety effects of CBD can give the ultimate wellness boost.
What are the best cbd drink brands?
Trip CBD
Trip CBD is a brand of CBD-infused beverages that is focused on creating unique and delicious drinks. Trip CBD offers something for everyone with a range of flavoured CBD drinks that are finding their way into supermarkets, restaurants and bars up and down the UK.
Goodrays CBD
Goodrays CBD is without doubt one of the best CBD Seltzers to hit the market in recent years. The Goodrays CBD cans look great and come in a wide variety of flavours. Goodrays CBD have also recently filled the shelves of supermarket supreme Tesco. Tesco CBD drinks include the likes of both Goodrays and Trip CBD, but also Tesco CBD oils include Cannaray and Love Hemp.
Little Rick
Little Rick is known for its CBD and CBG infused CBD seltzers. Their fizzy CBD drinks taste great and come in a few different flavours including our personal favourite the Pina Colada CBD seltzer!
Cannabrew
Cannabrew is one of the first brands in the market to create a great range of CBD beers. With most of their fantastic CBD beers including 15mg of CBD broad spectrum and brewed in the UK. They have a range of CBD beers from West Coast IPAs to craft lagers and more recently non-alcoholic CBD infused beers and apple ciders. Having tried the full range, we are hugely impressed with the taste and branding of these beers and think that Cannabrew has a big future in the CBD drinks market! On that note - let's move on to our CBD drinks best buys UK!
CBD drinks UK best buys
Cannabrew Hops & Sunshine - Non Alcoholic IPA CBD Beer
This is our current pick of the CBD drinks. Being a CBD beer, but a non-alcoholic version means it is perfect for all occasions. In the health conscious environment it is no surprise that non-alcoholic beverages are growing quickly. The Cannabrew Hops and Sunshine IPA is fruity, refreshing and finds a great balance as a non-alcoholic IPA that is not too watery and maintains that fruity flavour despite including no alcohol. It's a really great choice for someone looking for a non-alcoholic beer, but also wants the benefits of CBD included. It's found its way into our fridge ahead of some of the Becks and Peroni Alcohol free versions! High praise indeed!
Goodrays 30mg CBD Blood Orange & Grapefruit Seltzer 250ml
Goodrays CBD is without doubt one of the best CBD Seltzers to hit the market in recent years. The Goodrays CBD cans look great and come in a wide variety of flavours. If we were to review the best Goodrays CBD flavour we would go for the Blood Orange and Grapefruit flavour. It's refreshing but has a nice bitterness from the Grapefruit but not overpowering. Goodrays CBD drinks are also fantastic as they have a good strength of CBD with 30mg per can! A great choice! You can even pick these Goodray drinks up in Tescos now which is a real bonus - but a bit more expensive than above!
Little Rick 32mg CBD + CBG Sparkling 330ml Raspberry lemonade
Whilst Goodrays CBD is a great choice, for those looking for an extra hit Little Rick CBD and CBG drinks are brilliant.This Pina flavoured CBD seltzer is a delicious refreshing sparkling drink and works really well as an alcohol alternative. A fizzy CBD drink that has the distinctive raspberry lemonade flavour tastes great anytime of day! Little Rick CBD drinks coming in at 32mg of CBD and CBG will also help provide a large dose of wellness and relaxation!
Trip 15mg CBD Infused Elderflower & Mint Drink 250ml
The daddy of CBD drinks in the UK and soon to be in the US too. Trip drinks have taken the market by storm and for good reason. A delicious CBD alcohol alternative that is popping up everywhere! A drink that has such a breadth of positives that feels at home in so many settings. Drinking Trip CBD in a club, in a restaurant, in the garden or at home it just works everywhere. We recently had it in Giggling Squid as an alternative to a glass of wine one evening and somehow it worked! The Trip Elderflower and Mint flavour takes our pick but we recommend trying them all! Delicious, refreshing and a distinctive flavour that has a really strong elderflower flavour that becomes quite moreish!
Thanks for reading - please comment below with what are your favourite CBD drinks and reach out direct to us with any questions! Drop us a note on
Linkedin
or reach us on live chat!